Ethical Hacking Boot Camp
Learn the techniques used by malicious, black-hat hackers in our most popular information security and hacking training. This class teaches you how to use those hacking techniques to perform a white-hat, ethical hack on your organization. You'll leave with the ability to quantitatively assess and measure threats to information assets — and discover where your organization is most vulnerable to hacking.
Award-Winning Training
For 15 years Infosec has been one of the most awarded and trusted information security training vendors — 40+ industry awards!
Exam Pass Guarantee
We offer peace of mind with our Exam Pass Guarantee for Flex Pro students.
Track Record of Success
Infosec training courses have received 12,000+ 5-star reviews from our students!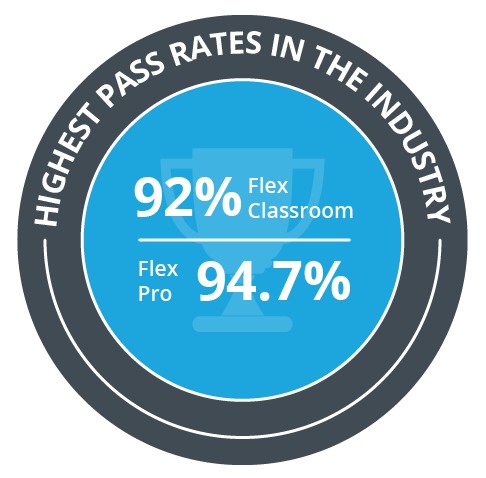 Dates & Locations
| Dates | Locations | Exam Pass Guarantee | Open Seats |
| --- | --- | --- | --- |
| July 8, 2019 - July 12, 2019 | Flex Pro | | 3 |
| July 15, 2019 - July 19, 2019 | Flex Pro | | 3 |
| July 22, 2019 - July 26, 2019 | Flex Pro | | 10 |
| July 29, 2019 - August 2, 2019 | Flex Pro | | 7 |
| August 12, 2019 - August 16, 2019 | Flex Pro | | 3 |
| August 12, 2019 - August 16, 2019 | Flex Pro | | 10 |
| August 26, 2019 - August 30, 2019 | Flex Pro | | 10 |
| September 9, 2019 - September 13, 2019 | Flex Pro | | 10 |
| September 16, 2019 - September 20, 2019 | Flex Pro | | 9 |
| September 23, 2019 - September 27, 2019 | Flex Pro | | 7 |
| September 30, 2019 - October 4, 2019 | Flex Pro | | 9 |
| October 14, 2019 - October 18, 2019 | Flex Pro | | 10 |
| October 21, 2019 - October 25, 2019 | Flex Pro | | 8 |
| November 4, 2019 - November 8, 2019 | Flex Pro | | 9 |
| November 11, 2019 - November 15, 2019 | Flex Pro | | 10 |
| December 9, 2019 - December 13, 2019 | Flex Pro | | 10 |
| December 16, 2019 - December 20, 2019 | Flex Pro | | 7 |
| January 6, 2020 - January 10, 2020 | Flex Pro | | 9 |
| January 27, 2020 - January 31, 2020 | Flex Pro | | 8 |
| February 3, 2020 - February 7, 2020 | Flex Pro | | 9 |
| February 10, 2020 - February 14, 2020 | Flex Pro | | 10 |
| February 24, 2020 - February 28, 2020 | Flex Pro | | 10 |
| March 2, 2020 - March 6, 2020 | Flex Pro | | 10 |
| March 9, 2020 - March 13, 2020 | Flex Pro | | 10 |
| March 16, 2020 - March 20, 2020 | Flex Pro | | 8 |
| March 30, 2020 - April 3, 2020 | Flex Pro | | 10 |
| April 6, 2020 - April 10, 2020 | Flex Pro | | 10 |
| April 13, 2020 - April 17, 2020 | Flex Pro | | 9 |
| April 27, 2020 - May 1, 2020 | Flex Pro | | 10 |
| May 11, 2020 - May 15, 2020 | Flex Pro | | 10 |
| May 18, 2020 - May 22, 2020 | Flex Pro | | 10 |
| June 1, 2020 - June 5, 2020 | Flex Pro | | 10 |
| June 15, 2020 - June 19, 2020 | Flex Pro | | 10 |
| June 22, 2020 - June 26, 2020 | Flex Pro | | 10 |
| July 8, 2019 - July 12, 2019 | Live Online, Illinois | | 3 |
| July 15, 2019 - July 19, 2019 | Dulles, Virginia | | 3 |
| July 22, 2019 - July 26, 2019 | San Diego, California | | 10 |
| July 22, 2019 - July 26, 2019 | Las Vegas, Nevada | | 10 |
| July 22, 2019 - July 26, 2019 | Seattle, Washington | | 9 |
| July 29, 2019 - August 2, 2019 | Colorado Springs, Colorado | | 6 |
| August 12, 2019 - August 16, 2019 | Chicago, Illinois | | 10 |
| August 12, 2019 - August 16, 2019 | Charlotte, North Carolina | | 8 |
| August 12, 2019 - August 16, 2019 | Dallas, Texas | | 10 |
| August 12, 2019 - August 16, 2019 | Dulles, Virginia | | 3 |
| August 26, 2019 - August 30, 2019 | Orlando, Florida | | 6 |
| September 9, 2019 - September 13, 2019 | Baltimore, Maryland | | 10 |
| September 16, 2019 - September 20, 2019 | Boston, Massachusetts | | 9 |
| September 16, 2019 - September 20, 2019 | Dulles, Virginia | | 9 |
| September 23, 2019 - September 27, 2019 | Phoenix, Arizona | | 10 |
| September 23, 2019 - September 27, 2019 | San Diego, California | | 7 |
| September 30, 2019 - October 4, 2019 | Atlanta, Georgia | | 9 |
| October 21, 2019 - October 25, 2019 | Chicago, Illinois | | 9 |
| October 21, 2019 - October 25, 2019 | Dallas, Texas | | 8 |
| October 21, 2019 - October 25, 2019 | Dulles, Virginia | | 9 |
| November 4, 2019 - November 8, 2019 | San Diego, California | | 10 |
| November 4, 2019 - November 8, 2019 | Las Vegas, Nevada | | 9 |
| November 4, 2019 - November 8, 2019 | Oklahoma City, Oklahoma | | 10 |
| November 4, 2019 - November 8, 2019 | Dallas, Texas | | 10 |
| November 4, 2019 - November 8, 2019 | Houston, Texas | | 10 |
| November 4, 2019 - November 8, 2019 | Seattle, Washington | | 10 |
| November 11, 2019 - November 15, 2019 | Orlando, Florida | | 10 |
| November 11, 2019 - November 15, 2019 | Atlanta, Georgia | | 10 |
| November 11, 2019 - November 15, 2019 | Boston, Massachusetts | | 10 |
| November 11, 2019 - November 15, 2019 | Dulles, Virginia | | 10 |
| December 9, 2019 - December 13, 2019 | Miami, Florida | | 9 |
| December 9, 2019 - December 13, 2019 | New York City, New York | | 10 |
| December 9, 2019 - December 13, 2019 | Dulles, Virginia | | 10 |
| December 16, 2019 - December 20, 2019 | Colorado Springs, Colorado | | 7 |
| December 16, 2019 - December 20, 2019 | Charlotte, North Carolina | | 10 |
| January 6, 2020 - January 10, 2020 | Boston, Massachusetts | | 9 |
| January 6, 2020 - January 10, 2020 | Dulles, Virginia | | 10 |
| January 27, 2020 - January 31, 2020 | San Diego, California | | 10 |
| January 27, 2020 - January 31, 2020 | Las Vegas, Nevada | | 10 |
| January 27, 2020 - January 31, 2020 | Seattle, Washington | | 8 |
| February 3, 2020 - February 7, 2020 | Miami, Florida | | 9 |
| February 3, 2020 - February 7, 2020 | New York, New York | | 10 |
| February 3, 2020 - February 7, 2020 | Dulles, Virginia | | 10 |
| February 10, 2020 - February 14, 2020 | Colorado Springs, Colorado | | 10 |
| February 24, 2020 - February 28, 2020 | Orlando, Florida | | 10 |
| March 2, 2020 - March 6, 2020 | San Diego, California | | 10 |
| March 2, 2020 - March 6, 2020 | Las Vegas, Nevada | | 10 |
| March 2, 2020 - March 6, 2020 | Seattle, Washington | | 10 |
| March 9, 2020 - March 13, 2020 | Boston, Massachusetts | | 10 |
| March 9, 2020 - March 13, 2020 | Dulles, Virginia | | 10 |
| March 16, 2020 - March 20, 2020 | Chicago, Illinois | | 10 |
| March 16, 2020 - March 20, 2020 | Dallas, Texas | | 8 |
| March 30, 2020 - April 3, 2020 | Atlanta, Georgia | | 10 |
| March 30, 2020 - April 3, 2020 | Charlotte, North Carolina | | 10 |
| April 6, 2020 - April 10, 2020 | Colorado Springs, Colorado | | 10 |
| April 13, 2020 - April 17, 2020 | Miami, Florida | | 9 |
| April 13, 2020 - April 17, 2020 | New York, New York | | 10 |
| April 13, 2020 - April 17, 2020 | Dules, Virginia | | 10 |
| April 27, 2020 - May 1, 2020 | Dallas, Texas | | 10 |
| April 27, 2020 - May 1, 2020 | Houston, Texas | | 10 |
| May 11, 2020 - May 15, 2020 | Boston, Massachusetts | | 10 |
| May 11, 2020 - May 15, 2020 | Dulles, Virginia | | 10 |
| May 18, 2020 - May 22, 2020 | Baltimore, Maryland | | 10 |
| June 1, 2020 - June 5, 2020 | Atlanta, Georgia | | 10 |
| June 15, 2020 - June 19, 2020 | Miami, Florida | | 10 |
| June 15, 2020 - June 19, 2020 | Dulles, Virginia | | 10 |
| June 22, 2020 - June 26, 2020 | San Diego, California | | 10 |
| June 22, 2020 - June 26, 2020 | Las Vegas, Nevada | | 10 |
| June 22, 2020 - June 26, 2020 | Seattle, Washington | | 10 |