CCNA Dual Cert Associate & Cyber Ops Boot Camp
Infosec's CCNA Dual Certification boot camp is a seven-day accelerated, in-depth course that can help IT professionals build a foundation in and apprentice knowledge of networking. CCNA Associate professionals can install, configure, and operate LAN, WAN, and dial access services for small networks including but not limited to use of these protocols: IP, EIGRP, Serial, Frame Relay, VLANs, RIP, Ethernet and OSPF.
Award-Winning Training
For 15 years Infosec has been one of the most awarded and trusted information security training vendors — 40+ industry awards!
Exam Pass Guarantee
We offer peace of mind with our Exam Pass Guarantee for Flex Pro students.
Track Record of Success
Infosec training courses have received 12,000+ 5-star reviews from our students!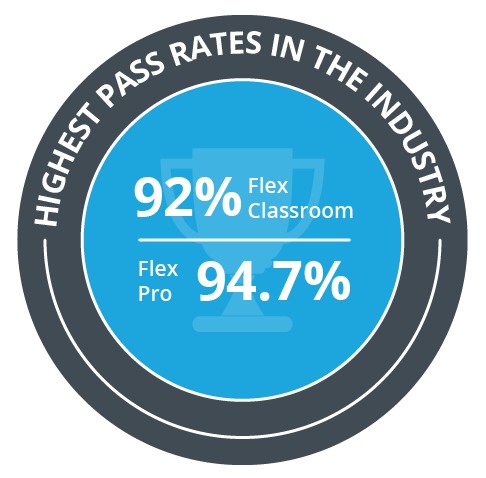 Dates & Locations
| Dates | Locations | Exam Pass Guarantee | Open Seats |
| --- | --- | --- | --- |
| July 20, 2020 - July 26, 2020 | Flex Pro | | 3 |
| August 3, 2020 - August 9, 2020 | Flex Pro | | 4 |
| August 10, 2020 - August 16, 2020 | Flex Pro | | 5 |
| August 17, 2020 - August 23, 2020 | Flex Pro | | 3 |
| August 24, 2020 - August 30, 2020 | Flex Pro | | 10 |
| August 24, 2020 - August 30, 2020 | Flex Pro | | 10 |
| September 14, 2020 - September 20, 2020 | Flex Pro | | 8 |
| September 21, 2020 - September 27, 2020 | Flex Pro | | 10 |
| September 28, 2020 - October 4, 2020 | Flex Pro | | 10 |
| October 5, 2020 - October 11, 2020 | Flex Pro | | 9 |
| October 12, 2020 - October 18, 2020 | Flex Pro | | 10 |
| October 19, 2020 - October 25, 2020 | Flex Pro | | 9 |
| October 26, 2020 - November 1, 2020 | Flex Pro | | 10 |
| November 2, 2020 - November 8, 2020 | Flex Pro | | 10 |
| November 9, 2020 - November 15, 2020 | Flex Pro | | 10 |
| November 16, 2020 - November 22, 2020 | Flex Pro | | 10 |
| November 30, 2020 - December 6, 2020 | Flex Pro | | 10 |
| December 7, 2020 - December 13, 2020 | Flex Pro | | 9 |
| December 14, 2020 - December 20, 2020 | Flex Pro | | 10 |
| December 14, 2020 - December 20, 2020 | Flex Pro | | 10 |
| January 4, 2021 - January 10, 2021 | Flex Pro | | 10 |
| January 11, 2021 - January 17, 2021 | Flex Pro | | 10 |
| February 8, 2021 - February 14, 2021 | Flex Pro | | 10 |
| February 8, 2021 - February 14, 2021 | Flex Pro | | 10 |
| February 22, 2021 - March 28, 2021 | Flex Pro | | 10 |
| March 8, 2021 - March 14, 2021 | Flex Pro | | 10 |
| March 29, 2021 - April 4, 2021 | Flex Pro | | 10 |
| April 12, 2021 - April 18, 2021 | Flex Pro | | 10 |
| April 19, 2021 - April 25, 2021 | Flex Pro | | 10 |
| April 26, 2021 - May 2, 2021 | Flex Pro | | 10 |
| May 3, 2021 - May 9, 2021 | Flex Pro | | 10 |
| May 10, 2021 - May 16, 2021 | Flex Pro | | 10 |
| June 7, 2021 - June 13, 2021 | Flex Pro | | 10 |
| June 14, 2021 - June 20, 2021 | Flex Pro | | 10 |
| July 12, 2021 - July 18, 2021 | Flex Pro | | 10 |
| July 20, 2020 - July 26, 2020 | Live Online, Virginia | | 3 |
| August 3, 2020 - August 9, 2020 | Live Online, Colorado | | 4 |
| August 10, 2020 - August 16, 2020 | San Diego, California | | 5 |
| August 10, 2020 - August 16, 2020 | Las Vegas, Nevada | | 10 |
| August 17, 2020 - August 23, 2020 | Live Online, Virginia | | 3 |
| September 14, 2020 - September 20, 2020 | Dallas, Texas | | 8 |
| September 21, 2020 - September 27, 2020 | Dulles, Virginia | | 10 |
| September 28, 2020 - October 4, 2020 | Atlanta, Georgia | | 10 |
| October 5, 2020 - October 11, 2020 | San Diego, California | | 10 |
| October 5, 2020 - October 11, 2020 | Seattle, Washington | | 9 |
| October 12, 2020 - October 18, 2020 | Dulles, Virginia | | 10 |
| October 19, 2020 - October 25, 2020 | Chicago, Illinois | | 9 |
| October 26, 2020 - November 1, 2020 | Orlando, Florida | | 10 |
| November 2, 2020 - November 8, 2020 | Colorado Springs, Colorado | | 10 |
| November 9, 2020 - November 15, 2020 | Dulles, Virginia | | 10 |
| November 16, 2020 - November 22, 2020 | Houston, Texas | | 10 |
| November 16, 2020 - November 22, 2020 | Dallas, Texas | | 10 |
| November 30, 2020 - December 6, 2020 | San Diego, California | | 10 |
| November 30, 2020 - December 6, 2020 | Las Vegas, Nevada | | 10 |
| December 7, 2020 - December 13, 2020 | Dulles, Virginia | | 9 |
| January 4, 2021 - January 10, 2021 | San Diego, California | | 10 |
| January 4, 2021 - January 10, 2021 | Seattle, Washington | | 10 |
| January 11, 2021 - January 17, 2021 | Colorado Springs, Colorado | | 10 |
| January 11, 2021 - January 17, 2021 | Chicago, Illinois | | 10 |
| February 8, 2021 - February 14, 2021 | Dulles, Virginia | | 10 |
| February 22, 2021 - March 28, 2021 | Orlando, Florida | | 10 |
| March 8, 2021 - March 14, 2021 | Dulles, Virginia | | 10 |
| March 29, 2021 - April 4, 2021 | San Diego, California | | 10 |
| March 29, 2021 - April 4, 2021 | Las Vegas, Nevada | | 10 |
| April 12, 2021 - April 18, 2021 | Dulles, Virginia | | 10 |
| April 19, 2021 - April 25, 2021 | Chicago, Illinois | | 10 |
| April 26, 2021 - May 2, 2021 | Colorado Springs, Colorado | | 10 |
| May 3, 2021 - May 9, 2021 | San Francisco, California | | 10 |
| May 10, 2021 - May 16, 2021 | Dallas, Texas | | 10 |
| June 7, 2021 - June 13, 2021 | Atlanta, Georgia | | 10 |
| June 14, 2021 - June 20, 2021 | Dulles, Virginia | | 10 |
| July 12, 2021 - July 18, 2021 | Phoenix, Arizona | | 10 |
| July 12, 2021 - July 18, 2021 | San DIego,, California | | 10 |